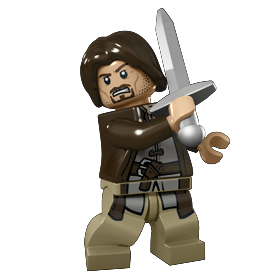 Aragorn is a Lord of the Rings minifigure to be released in 2012.
He has the same hair piece as Boromir and Dastan from Prince of Persia.
Aragorn was crowned king of Gondor and Arnor in The Return Of The King.
Aragorn got married to Arwen Undómiel in The Return of The King.
Aragorn is the heir of Isildur.
Aragorn is also called Elessar by the Elves.
Movie Gallery
Edit
Appearances
Edit
Non-physical
Edit
Ad blocker interference detected!
Wikia is a free-to-use site that makes money from advertising. We have a modified experience for viewers using ad blockers

Wikia is not accessible if you've made further modifications. Remove the custom ad blocker rule(s) and the page will load as expected.