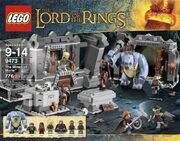 The Mines of Moria is a Lord of the Rings set to be released in 2012 and includes 6 minifigures and 1 Cave Troll.The set has 776 pieces and costs $79.99
Background
Edit
It seems to be the chamber of Marzarbul with Balin's tomb and the well which Pippin knocks a Skeleton into, thus alerting the orcs to their presence.
Minifigures included
Edit
http://www.toysrus.com/product/index.jsp?productId=12710102&cp=2255956.2273442.2255962.3252048.3252057&green
http://shop.lego.com/en-US/The-Mines-of-Moria-9473
http://www.target.com/p/LEGO-Lord-of-the-Rings-The-Mines-of-Moria-9473/-/A-13959467?reco=Rec%7Cpdp%7C13959467%7CClickCP%7Citem_page.adjacency&lnk=Rec%7Cpdp%7CClickCP%7Citem_page.adjacency
Ad blocker interference detected!
Wikia is a free-to-use site that makes money from advertising. We have a modified experience for viewers using ad blockers

Wikia is not accessible if you've made further modifications. Remove the custom ad blocker rule(s) and the page will load as expected.