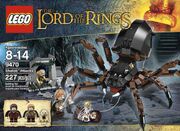 Shelob Attacks is a Lord of the Rings set to be released in 2012 and includes 3 minifigures.The set has 227 pieces and costs 19.99.
Background
Edit
The model consists of Shelob the spider, and a small cave entrance to Cirith Ungol, Where Gollum led Frodo into Shelob's lair, so he could reclaim the One Ring for himself.
Minifigures included
Edit
Ad blocker interference detected!
Wikia is a free-to-use site that makes money from advertising. We have a modified experience for viewers using ad blockers

Wikia is not accessible if you've made further modifications. Remove the custom ad blocker rule(s) and the page will load as expected.